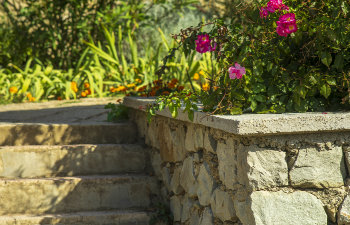 Winter can be hard on outdoor hardscapes such as driveways, walkways, patios, fire pits and retaining walls. The freezing and thawing cycles of North Carolina winters, along with snow and ice, can cause damage and result in costly repairs. Therefore, it's important to take steps to protect your hardscapes during winter.
Maxwell Landscaping, Inc. in Maiden, NC is your local hardscape expert. Our team shares some tips on how to protect your favorite hardscapes during harsh winter weather conditions.
Clean and Seal Your Hardscapes
Before winter arrives, it's important to clean and seal your hardscapes. Clear any debris such as leaves, twigs and dirt from the surface. Then, apply a sealant to protect against the harsh winter elements. A good quality sealant will help prevent moisture from penetrating the surface and causing damage. Speak with a team member at Maxwell Landscaping about recommended sealant products for your particular hardscape.
Use Ice Melt Wisely
Ice melt is a great way to prevent slipping and sliding on icy hardscapes. However, not all ice melt products are created equal. Some can be harmful to your hardscapes and cause damage. Therefore, it's important to choose a product that is safe for your specific hardscape material. For example, our hardscape experts recommend magnesium chloride as a popular and safe option for most hardscapes. Call and ask a team member for other recommendations for a specific hardscape material.
Avoid Running Heavy Equipment Over Your Hardscapes
During winter, it's best to avoid using heavy equipment over your hardscapes. Heavy equipment such as snowplows and snow blowers can cause damage to the surface. Instead, use a shovel or a broom to clear snow from your hardscapes.
Monitor Drainage Off and Around Your Hardscapes
Proper drainage is important to prevent water from pooling and causing damage to your hardscapes. Make sure that the drainage systems are functioning properly and clear any debris that may cause blockages. Hardscapes that do not shed water effectively will sustain damage when water freezes and thaws on or adjacent to it. If drainage seems to be a problem, contact our team at Maxwell Landscaping about installing drainage systems to protect your investment.
Repair Damage Promptly
If you notice any damage to your hardscapes, it's important to address it promptly. Cracks, chips and other damage can worsen over time and result in costly repairs. They can also allow moisture intrusions; freezing water in these cracks expands and causes splits in your hardscape materials. Early intervention can save you money and help prolong the life of your hardscapes.
NC Hardscape Experts
Protecting your hardscapes during winter is crucial to ensure their longevity and prevent costly repairs. By following these tips shared by our NC hardscape experts, you can help keep your hardscapes in good condition and ready for the next season. When you're ready to discuss new hardscape projects in Concord, Cornelius, Davidson, Huntersville, Lake Norman, Mooresville, Sherrills Ford, Terrell, Cabarrus County, Catawba County, Iredell County, Mecklenburg County and the surrounding areas in North Carolina, contact Maxwell Landscaping, Inc. for seasoned help with planning, material selection, construction and more.