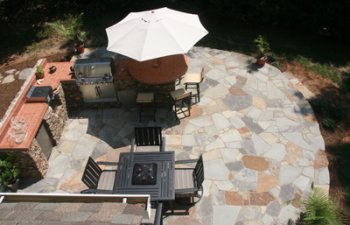 A growing family may mean needing better organized outdoor spaces to spend quality time together. Kids demand a lot of attention, so having a garden oasis is all but essential. By adding hardscape features to a landscape, parents can create shared spaces that are safe, functional and aesthetically pleasing.
Picking out the best features for an outdoor living space is not as simple as it sounds. Every family has different needs, depending on factors such as the age of children, their special interests and if there are pets to consider. It makes sense to design your new landscape with these things in mind.
Outdoor Kitchen
One of the most beneficial hardscape features in outdoor living spaces is a functional kitchen. You can keep an eye on the kids while preparing meals, entertain guests without having to constantly excuse yourself and make the most of the garden for longer in the seasons.
An outdoor kitchen is practically an essential feature for the family that loves to spend time in the garden. You can include features that are practical such as a barbeque grill, range, sink and even storage unites for cutlery, tableware and drink containers. For larger families, an outside refrigerator is also worth consideration.
Work, Rest & Play Areas
Of course, you will want to think about spaces that are reserved for special use. A play area for the kids is ideal for getting them outside without having to stray far from home. For the adults, a lounging area allows you to relax after a busy day. You can even reserve an area for a quiet place to work outside.
If you need help designing the perfect family escape in your yard, give Maxwell Landscaping a call in Mooresville. We have the experience, expertise and ingenuity to make your dream hardscape features a reality.