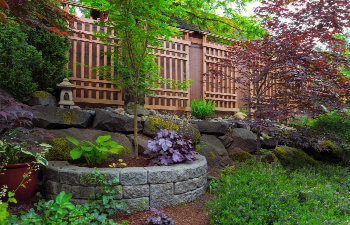 As a homeowner, you know the value of investing in your property. Despite knowing that hardscaping can work for beauty and value, many people still worry it will appear too stark or uninviting; but nothing could be further from the truth. A thoughtful combination of hardscaping and landscaping can enhance your home's curb appeal and increase its value by rejuvenating your outdoor space. Both elements can work together to create a functional and aesthetically pleasing yard that reflects your personal style while providing a welcoming atmosphere for family and guests.
What is Hardscaping?
Hardscaping refers to the use of non-living materials, such as pavers, concrete, stones and bricks, to create pathways, patios, retaining walls and other structures in your yard. Hardscaping enhances the functionality of your outdoor areas, allowing for better use of space and easier navigation with defined pathways, sitting areas and other gathering spaces.
Transforming Your Outdoor Space
Unlike landscaping elements, hardscaping materials generally require less upkeep, allowing you to spend less time maintaining and more time entertaining and enjoying the space. A well-designed patio can serve as an extension of your living space, providing a comfortable and inviting area for outdoor gatherings. Fountains, ponds and waterfalls can bring a sense of tranquility and relaxation to your outside areas. Thoughtfully designed hardscaping can even help control water runoff and minimize erosion, protecting your property and the environment.
Professional, Long-Lasting Results
While it may be tempting to take on a hardscaping project yourself, it's crucial to recognize the challenges involved in such a task. It requires a keen eye for design, proper knowledge of materials and installation techniques and an understanding of local regulations and permits. It is also physically demanding, time-consuming and expensive to correct any mistakes.
Hiring a professional hardscaping company ensures that your outdoor space is designed and constructed with expertise and care. Professionals have access to a wider range of materials, industrial equipment and they know how to predict and compensate for potential challenges, enabling them to create a long-lasting, unique and functional outdoor space.
Contact Maxwell Landscaping, Inc. today and discover how we can help you create the perfect blend of hardscaping and landscaping elements for your outdoor oasis.