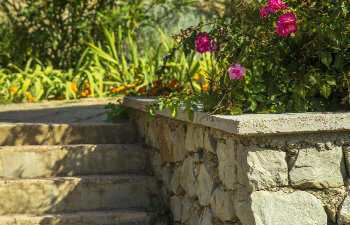 Hardscaping is an excellent option if you want to improve your home's curb appeal. Hardscaping refers to using hard materials like stone, concrete, brick and wood to create permanent structures in your outdoor living space, such as walkways, patios, retaining walls and water features. Here are some of the top benefits of adding hardscaping to your home.
Increases Home Value
One of the most significant benefits of adding hardscaping to your home is that it can increase your property value. Hardscaping can make your outdoor space more functional and attractive, a big selling point for potential buyers. This is especially true if you add features like a patio, outdoor kitchen or fire pit, which can be a big draw for people looking for an outdoor living space.
Low Maintenance
Another advantage of hardscaping is that it requires minimal maintenance compared to traditional landscaping. Once hardscaping is installed, it does not need to be watered or mowed like a lawn. In addition, hardscaping features like pavers and stones can last for decades without needing replacement, making them a cost-effective option for homeowners.
Provides Outdoor Living Space
Hardscaping can also be used to create outdoor living spaces that are perfect for entertaining guests or relaxing with family. Adding features like a patio, fire pit or outdoor kitchen can transform your outdoor space into an extension of your home. You can create a functional and visually appealing space with the right hardscaping design.
Improves Drainage
Another benefit of hardscaping is that it can help improve drainage on your property. When installed correctly, hardscaping can help direct water away from your home and prevent flooding in your yard. This is especially important for homeowners who live in areas with heavy rainfall or are prone to flooding.
Considering Hardscaping to Enhance Your Outdoor Space?
Hardscaping is an excellent option for homeowners who want to enhance the beauty and functionality of their outdoor living space. With hardscaping's many benefits, it is no wonder that more and more homeowners are investing in these features.
Contact Maxwell Landscaping to schedule a consultation if you want to enhance your outdoor space with hardscaping. Our team of experienced professionals can help design and install a beautiful and functional hardscape that fits your needs and budget.