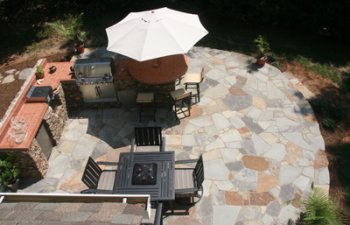 More and more homeowners are discovering the benefits of an outdoor kitchen. By bringing your kitchen to your backyard, you can create a place to gather, entertain and enjoy your outdoor space. When adding an outdoor kitchen, however, customization and design are important. There are countless layouts and options available. Here are some top things you should consider to help guide you in the outdoor kitchen planning process:
What are your overall goals for your outdoor kitchen?
Are you dreaming of hosting large parties around your outdoor kitchen? Or are you content for it to be a place that your small family gathers for summer dinners? This can determine several components of your outdoor kitchen, such as the space you need, the seating arrangements and furniture you should account for, as well as the size of your appliances.
What are your size limitations?
Regardless of what your goals and visions are for your outdoor kitchen, you may be restricted by the space you have available. Take measurements of your outdoor space so that you don't start planning for more kitchen than your backyard can handle.
How will the weather affect your outdoor kitchen?
When designing your new outdoor kitchen, it is important to consider the climate that you live in. Do you need weatherproof materials for your countertops, cabinets and seating? Likewise, if you expect extreme heat during the summer, you'll need to consider a way to provide shade for your guests while still protecting the aesthetics of your outdoor gathering space.
What types of appliances can your budget and space support?
While a grill is often the top priority in terms of outdoor kitchen appliances, if you plan to entertain regularly, you may want to consider adding a built-in mini fridge, food prep station and sink. It is smart to think about which appliances are most needed in terms of convenience and serving your guests.
How much do you have to spend on your outdoor kitchen?
Since outdoor kitchens are considered a luxury, your budget can often get in the way. Keep in mind that a budget-friendly space can still include the finer elements of a professional chef's kitchen, but just on a smaller scale. Your budget should include all items of your outdoor kitchen, such as countertops, lighting, utilities, furniture, appliances cabinets/storage and even the type of gas you will need to use.
Start Your Outdoor Kitchen Design Today!
Are you ready to bring your kitchen outdoors? At Maxwell Landscaping, we've helped countless clients enjoy their own backyard by adding outdoor kitchens, fireplaces, patios and other elements that can take your outdoor living to the next level.