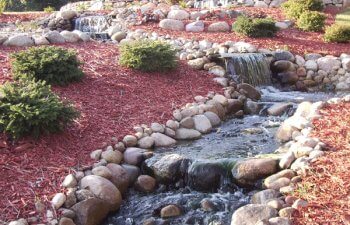 While the new beginnings of spring and the dog days of summer may feel like they're still light-years away, the truth is this is the perfect time to tackle an overhaul of your outdoor living spaces. North Carolina winters are far milder than many other parts of the country. This means it's easier to complete even very complex upgrades as the weather cools, and that you'll get to enjoy your upgraded spaces for more of the year when the work is complete.
Boost Your Curb Appeal and Your Enjoyment of Outdoor Living Space
If you're like the vast majority of American homeowners, your home is your largest and most important investment. You want your property to look its best year-round, and you want curb appeal strong enough to make you the envy of the neighborhood.
Spending time during the winter to improve your space helps send your curb appeal skyrocketing, especially when you consider the speed with which many projects can be finished during slower months.
Because so many people turn all their attention inward during less hospitable seasons, there tends to be less demand and less competition for everything from contractor availability to permits.
From elaborate fountains to outdoor kitchens and everything in between, winter is the ideal time for investing in hardscaping features capable of totally transforming your property.
Start Planning Ahead for a Dream Summer Staycation
Who says you have to travel to enjoy the benefits of a vacation? Knocking out the work of a major hardscaping overhaul during the winter means you're all set to enjoy a legendary summer without ever leaving your property. By starting so early, you'll have plenty of time to carefully plan and execute your outdoor renovation. Not only does this minimize unpleasant surprises; it also helps to ensure you're not missing valuable fun in the summer sun due to starting the project later in the year.
If you're ready to take your lawn to the next level with plenty of time to spare before the outdoor season gets started, Maxwell Landscaping can help. Contact us today to learn more about all the ways you can turn your lawn into your own little slice of paradise over the winter.