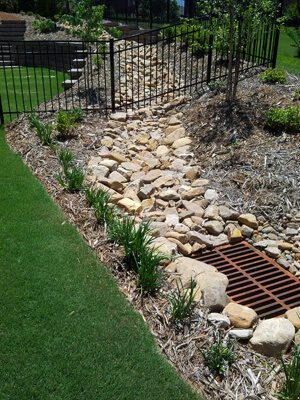 You can trust Maxwell Landscaping to provide effective and affordable drainage solutions to your home or commercial property in Concord. We understand the damage that results from areas of standing water in your yard. Neglecting drainage problems can cause plants to wilt and grass to die as well as become a breeding ground for mosquitoes. At Maxwell Landscaping, we want you to enjoy a healthy and beautiful landscape at all times. Let our professionals design and implement a customized drainage solution for your yard so that you can be confident in your landscape after a rainfall. We are proud to uphold our reputation for top quality landscaping services as well as excellence in hardscape and landscape design.
Erosion Control
If your home sits on a hill in Concord, NC, you may be facing erosion issues in your yard. Maxwell Landscaping is here to meet your needs with a wide variety of erosion control services and techniques. Our landscapers are experienced and knowledgeable when it comes to finding the source of your drainage problem and providing a cost-effective and timely solution. We believe in providing customized erosion control with customer satisfaction at our forefront. Whether you need a drainage ditch, retaining wall or soil leveling, we can handle it all with the professionalism and expertise you deserve.
Contact our Drainage Solutions Contractors at Maxwell Landscaping today and give your landscape the attention it needs to thrive. Our economical drainage solutions and erosion control services can be just what your yard needs to be healthy and beautiful again.