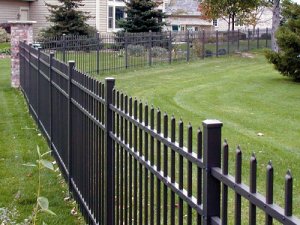 Maxwell Landscaping is proud to serve the Concord area with experienced fence contractors who can meet your landscaping goals. We have a team of landscape and hardscape experts who specialize in transforming your yard into a dream outdoor living space. A fence can create needed privacy for your home or business, while also framing and enhancing your landscape design. You can trust Maxwell Landscaping for a wide variety of landscaping services and hardscape designs, including stone patios, decking, fire pits, outdoor kitchens and retaining walls. Whether you envision decorative aluminum or wood for your fencing needs, our contractors will make sure we provide an option that suits your functional needs and personal style best. We are known for delivering our services with a strong adherence to your budget and time. Call us today and let our Maxwell Landscaping start creating your ideal commercial or residential fencing design.
Custom Fence Builder in Concord
If you are looking for a custom fence builder in the Concord area that you can count on for high quality, affordable fencing, choose Maxwell Landscaping. We understand the importance of a well-built fence that is properly designed and installed. Our fence builders carry a strong attention to detail, ensuring your layout and measurements are precisely implemented throughout the project. We always use the highest quality products and equipment to deliver our landscaping services and hardscapes design. Your long-term satisfaction is important to us when it comes to landscaping or fencing on your property. We want to be the professionals you trust when your yard needs attention.
Contact our Fence Contractors at Maxwell Landscaping today to discover how a well-built fence can enhance the beauty and dimension of your home or business in Concord. We carry a full selection in fencing options, ranging from decorative aluminum to wooden privacy fences. Our team is committed to finding a custom solution for your landscape in Concord!