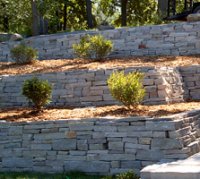 Could a custom designed retaining wall transform your oddly shaped yard into a beautiful and valuable landscape? Maxwell Landscaping is a full service landscaping and hardscape design company that specializes in retaining walls. Our professionals offer a wide variety of custom retaining walls for both residential and commercial customers in Concord. You can trust that we understand proper building requirements as well as the necessary drainage issues that need to be considered when engineering your retaining wall. Customers love the sturdy functional purpose our retaining walls serve while also getting an added dimension and aesthetic value to their landscape. Maxwell Landscaping is the experts you can trust to create your dream outdoor living space. We provide comprehensive landscaping services as well as stone patios, outdoor kitchens, fencing, decking and other hardscape projects.
By hiring Maxwell Landscaping to build your retaining wall in Concord, we can provide a full range of design options that will not only support the existing elevation changes but fit your personal design style as well. Our professionals use high quality retaining wall products like Pavestone, Belgard and Everloc and we also build brick, natural stone, masonry and concrete brick retaining walls. From our initial consultation to the final phase of completion, you can count on Maxwell Landscaping for customer satisfaction every step of the way.
Stone Landscaping Walls
We are known for surpassing customer expectations and industry standards when it comes to stone landscaping walls. Maxwell Landscaping works hard to adhere to your personal budget, while providing a stone wall that supports functional needs and meets your visual goals. We can also repair your existing retaining walls when needed.
Your outdoor living starts with Maxwell Landscaping, our company has the passion and power to mold the earth around you. Contact our Concord Retaining Walls Contractors today for more information or to receive an estimate.