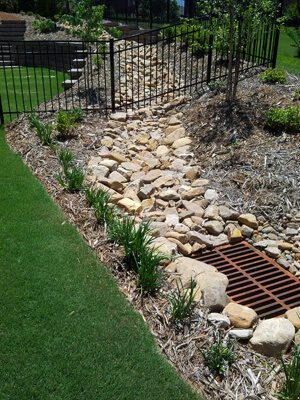 Are you concerned that your yard has a drainage problem? Maxwell Landscaping can take care of your yard drainage solutions in Davidson with our experienced team of engineers and landscapers that provide top quality landscaping services. We understand the ramifications of not addressing a drainage problem on your landscape. Standing water can lead to many damages including wilting shrubs and dying grass. Your yard may also become a breeding ground for mosquitoes if your drainage problems are not conquered immediately. You can trust us to engineer the most effective and economical plan of action to ensure your yard drains properly again.
Cornelius NC Erosion Control
If your business or home in Cornelius NC sits on a hill, it is likely that you will experience the need for erosion control. Maxwell Landscaping provides solutions to erosion and drainage problems with our guaranteed customer satisfaction. Do not let erosion ruin your enjoyment of your landscape any longer. We have the experience to carefully examine your need for erosion control and provide a variety of solutions to meet your specific landscape need.
Drainage Problems Solved
You may be surprised at how simply most drainage problems can be solved with Maxwell Landscaping. However, whether it is just leveling your soil or building a retaining wall, you can trust you are getting the best when you choose our team of professionals. We promise to deliver a cost effective solution in the timely manner you deserve.
Contact our Davidson Yard Drainage Solutions Experts at Maxwell Landscaping today and let us restore the health and beauty of your landscape by providing strong solutions for your erosion or drainage problems.