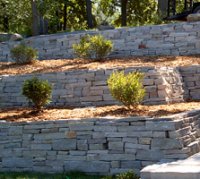 When it comes to finding high quality and affordably priced retaining walls in Davidson, trust the hardscape design experts at Maxwell Landscaping. We are a full service hardscape design company serving residential and commercial customers in Davidson, North Carolina and the surrounding area.
Retaining walls serve a multitude of purposes from structurally securing sloping landscapes to providing depth and dimension to outdoor living spaces. Our retaining walls are easy to detect in and around Davidson. We design and construct innovative retaining walls that are accurately installed to last a lifetime.
Stone Retaining Walls Davidson NC
Our hardscape contractors are known for building unique and impressive stone retaining walls in Davison NC. Stone retaining walls are both beautiful and functional. When properly constructed, a stone retaining wall combines the natural beauty from your landscape design with a missing element of functionality in your landscape. You can have newly formed outdoor living areas where there used to be an oddly sloped yard. At Maxwell Landscaping, we always use the highest quality building materials and proven engineering and installation techniques to build a solidly constructed stone retaining wall. We guarantee your total satisfaction!
Cornelius Retaining Walls
At Maxwell Landscaping, we provide exceptionally constructed Cornelius retaining walls. We are building deep roots in Cornelius as the go-to retaining wall contractor. We are a full service landscape design company offering a full range of landscape and hardscape services. Trust Maxwell Landscaping for all of your landscape needs including decking, fencing, outdoor fireplaces or fire pits, hardscape and landscape design/ installation, natural stone patios, outdoor kitchens, mulch spreading and much more.
Contact our Davidson Retaining Wall Contractors today to schedule an onsite design consultation. You can count on us for top notch service, unique designs and expert retaining wall installation. We look forward to serving you with landscaping excellence.