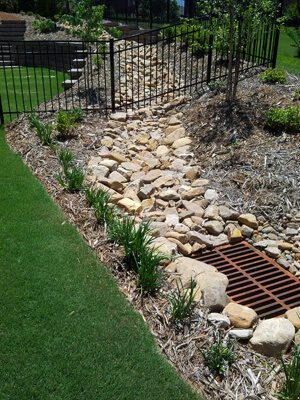 Is the beauty and function of your yard threatened by a drainage problem? The professionals at Maxwell Landscaping can help you in Gastonia. We provide a wide variety of landscape services, including drainage solutions that can restore beauty and health to your yard. Our professionals can handle most poor drainage issues, whether it is a minor water problem or you have major storm-water damage. You can trust that Maxwell Landscaping understands the importance of finding a drainage solution that is both effective and aesthetically pleasing. Standing water in your yard can cause plant and grass damage as well as become a breeding ground for unwanted mosquitoes. Give your yard the attention it deserves and call Maxell Hardscapes for your customized drainage solutions and erosion control services. We want you to get the maximum enjoyment out of your yard in Gastonia.
Lincolnton Erosion Control
If your home or business resides on a hill, you will likely face erosion or drainage problems. You can trust Maxwell Landscaping to help you best in Lincolnton. Because we understand the intricacies behind your erosion issues, we can deliver the most cost effective remedy. Our professionals are not only equipped to solve your drainage and erosion problems, but we have the experience it takes to design and implement solutions that can successfully save your landscape from ruin.
Don't ignore drainage or erosion issues on your commercial or residential property in the Lincolnton area. Maxwell Landscaping works fast to carefully examine the specific source of your drainage problem before discussing the best solution. Often, the fix to eliminate standing water in your yard is both simple and inexpensive. You can be confident that our landscapers use the highest quality products and equipment to carry out our services, whether it is leveling the soil, building a retaining wall or installing a drainage ditch.
Contact our Drainage Solutions Contractors at Maxwell Landscaping today if you are ready to solve your erosion problem on your residential or commercial property.