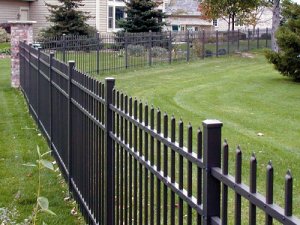 Do you need a fence company for your home or business in Gastonia? Maxwell Landscaping can help you best. We have experienced fence contractors who offer an extensive selection of fencing options to suit your specific needs and style. We are a full service landscaping and hardscape design company that is committed to customer satisfaction every time. Our fencing options are customized to meet your personal landscaping plan as well as provide the necessary privacy, security or animal control you may be looking for on your property. Beyond your fencing needs, Maxwell Landscaping can also handle your landscaping services such as erosion control and mulch spreading as well as hardscape designs for your outdoor living space. We want to help you get the most of out of your yard in Gastonia.
Lincolnton Custom Fence Builder
If you live in Lincolnton, you can trust our custom fence builders to perform top quality workmanship with a strict adherence to your budget and time frame. At Maxwell Landscaping, we value the importance of a well-designed and well-built fence. Our fencing installation is accomplished using precise measurements and specialized equipment. Because we are a full service landscape design company, our professionals take factors such as drainage problems and ongoing lawn care into consideration when advising you on the best fencing options. We are equipped with a variety of material types and design plans to meet your personal needs.
Contact our Fence Contractors at Maxwell Landscaping to schedule a fencing consultation, free of charge. Our Gastonia fencing contractors are ready to build your custom fence today so that you can enjoy your yard the way you deserve.