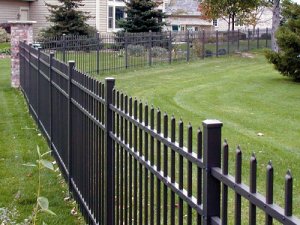 For experienced and trusted fence contractors in Huntersville, choose Maxwell Landscaping. We are experts when it comes to providing fencing options to frame your commercial or residential landscape. At Maxwell Landscaping, we design and install landscapes and outdoor hardscapes that leave a lasting impression. Our design team combines the beauty of your natural surroundings with products that enhance your outdoor living experience. Our fence company can help create privacy in your yard and keep your family safe. We offer extensive fencing options ranging from decorative aluminum to wooden privacy fences, depending on your personal style, functional needs and budget. You will find that our fence contractors are dedicated to your specific fencing vision and always respectful of your time in completing projects.
Custom Fence Builder
Our custom fence builders are ready to prove their expertise to you in Huntersville. Not only do we consistently provide enhancing fence designs for our customers, but we also understand the importance of a well-built fence. Maxwell Landscaping makes it a priority to install your fence using precise layout and measurements so that you get the ideal framing option on your commercial or residential property. Our fences are meant to create dimension and beauty around your landscape, while providing the privacy or other functional needs you desire.
We are proud to serve the Huntersville area with our expertise in landscape and hardscape services. Our team can do it all, from solving your drainage problems to building your custom deck or stone patio. Contact our Fence Contractors today to learn more about how our fencing options can create the security you need at the price you can afford. Maxwell Landscaping offers free estimates and we look forward to helping you get the most out of your own back yard.