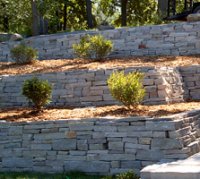 Are you looking for a reputable landscape design company to handle the design and installation of a new retaining wall for your Huntersville home or commercial property? Experts in retaining walls, Maxwell Landscaping offers uncompromised design, workmanship and installation for retaining walls, stone landscape walls, landscaping walls and landscape retention walls.
Maxwell Landscaping is a reputable hardscape contractor serving Huntersville and the surrounding area with high quality landscape design including retaining walls, decking, outdoor fireplaces, outdoor kitchens, mulch applications, paver patios and more. Outdoor living begins by calling Maxwell Landscaping; we are here to serve all of your retaining wall needs.
Landscape Retaining Walls Huntersville NC
A landscape retaining wall may be just what your landscape needs to create a new outdoor living space to enjoy all year long. For expert landscape retaining walls Huntersville NC, trust the design and installation specialists at Maxwell Landscaping.
If you have visions of a picture perfect landscape in your backyard, let the design team at Maxwell Landscaping create a unique masterpiece to surround your home. Huntersville homeowners and business owners can feel certain that our landscape designers craft well designed and engineered landscape retaining walls. We pride ourselves in providing customized hardscape designs that add depth and beauty to your landscape while serving the practical and functional purposes of a properly constructed landscape retaining wall.
Stone Landscaping Walls
Stone landscaping walls serve many purposes. A well constructed stone landscaping wall can be a focal point of a beautifully landscaped yard or entrance to your business. At Maxwell Landscaping, we serve our customers with exceptional customer service, top quality designs and hardscape installations. We are building deep roots in the Huntersville area and we guarantee your satisfaction. We will meet and exceed your landscape and hardscape needs. Contact our Huntersville Retaining Wall Contractors at Maxwell Landscaping and ask about our options for residential or commercial stone landscaping walls.