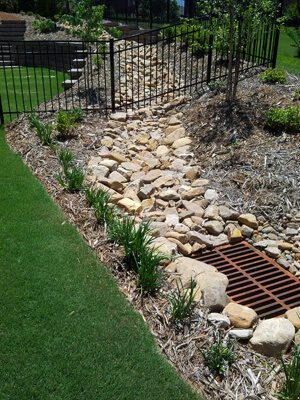 If you experience standing water in your yard after a steady rainfall, you likely have a drainage problem. Maxwell Landscaping is your solution for your yard drainage issues in the Huntersville area. Our team is experienced in finding the most customized and cost effective solutions to ensure your landscape is properly draining again. If left untreated, recurrent standing water can lead to a variety of problems such as wilting plants, dying grass and a mosquito breeding ground in your yard. At Maxwell Landscaping, our landscape services contractors promise to resolve your drainage problems fast so that you can enjoy your landscape to its fullest.
Erosion Control
The need for erosion control in Huntersville NC and the surrounding area is met by professionals of Maxwell Landscaping. We can provide a thorough examination of your erosion and drainage issues and provide an economical and effective solution. Our erosion control projects are always met in a timely manner with customer satisfaction as our goal. Our landscaping contractors are equipped to provide a variety of solutions to conquer the erosion of your residential or commercial property.
Drainage Problems Solved
Let Maxwell Landscaping help you solve your drainage problems today. Whether your solution involves leveling soil, installing a drainage ditch or building a retaining wall, we can restore your landscape to the health it deserves. You can trust our landscape experts to engineer the most cost effective plan to get your drainage problems solved once and for all. From minor water issues to major storm-water problems, let us take care of you and your yard.
If suspect a drainage or erosion problem on your property, contact our Huntersville Yard Drainage Solutions Experts at Maxwell Landscaping today for trusted and customized solutions.