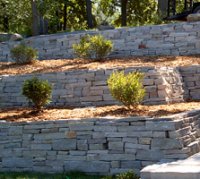 It's clear that outdoor living is a way of life for Lake Norman area residents. For creative designs and expertly installed retaining walls in and around Lake Norman, trust the area's premier hardscape specialists at Maxwell Landscaping.
At Maxwell Landscaping, we pride ourselves in providing high quality hardscape projects for residential and commercial customers in Lake Norman and the surrounding area. A properly placed, expertly designed and well constructed retaining wall can add structure, depth and visual beauty to any landscape. Our landscape contractors are experienced artisans with a depth of design and construction expertise. Maxwell Landscaping offers customers an uncompromised experience when choosing our landscape design company. You can count on superior customer service, customized designs and quality engineering and workmanship on your Lake Norman retaining wall project or any of our landscaping services.
Landscape Retaining Walls Lake Norman
Does the landscape design of your yard or business property call for a retaining wall? For quality landscape retaining walls in Lake Norman and the surrounding area, call Maxwell Landscaping. You can change the flow and feel of your entire backyard with a landscape retaining wall. Enjoy outdoor living all year long with your new found backyard living space, thanks to an expertly constructed landscape retaining wall.
We use the highest quality products and expert engineering to accurately design and install your landscape retaining wall.
Sherrills Ford Retaining Walls
Retaining walls come in all shapes and sizes. Our retaining wall contractors can handle any size retaining wall project in Sherrills Ford. Trust the hardscape experts at Maxwell Landscaping for all of your hardscape needs. We have deep roots in North Carolina and we are building a rock solid reputation as a reliable and affordable hardscape company.
Let us handle your upcoming retaining wall project. Contact our Lake Norman Retaining Wall Contractors today for an onsite evaluation. We look forward to serving you with exceptional service and quality workmanship. You can count on Maxwell Landscaping for superior Sherrills Ford retaining walls.