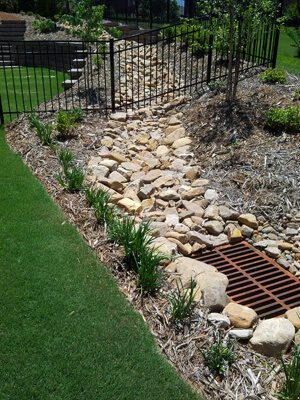 Do you have standing water in your yard? Let the professionals of Maxwell Landscaping help you today. We proudly serve the Newton area with a variety of effective drainage solutions for residential and commercial landscapes. Ignoring a drainage problem can cause your yard to become a breeding ground for mosquitoes and your plants to wilt. In most cases, eliminating standing water involves a simple and inexpensive solution. When you are ready to start getting maximum function and enjoyment from your yard, call Maxwell Landscaping. We are known for our top quality landscape services, creative landscape design and hardscape excellence in all that we do.
Denver Erosion Control
Do you need erosion control services for your Denver home or building? Maxwell Landscaping will exceed your expectations when it comes to providing both successful and cost-effective solutions to your erosion and drainage problems. Whether your erosion control answer involves leveling soil, installing a drainage ditch or building a retaining wall, we can restore your landscape to the health and beauty you deserve. Our professionals always work in a timely manner and use the highest quality products and equipment to serve you best. You will find that Maxwell Landscaping takes the time to thoroughly examine your specific drainage problem source before offering a variety of solutions. We work hard to give customers the landscape design and function they hope for, while respectfully adhering to their budget.
Don't let drainage or erosion problem ruin your landscape. We have the experience and knowledge it takes to eliminate your standing water and help you get the most out of your yard. As professionals in landscaping services as well as landscape and hardscape design, our customers love the comprehensive solutions we are equipped to offer at Maxwell Landscaping. Contact our Drainage Solutions Contractors today and we will work fast to solve your drainage problems in Newton.